Living and eating like an average person is not enough to enjoy life at its best. One should always be willing to step out of his or her comfort zone and try new things that bring delight to life.
Trying out exciting dishes is a great way to start living a remarkable life. But don't go all out on your tastebuds and chew a hot chilli. It would be best if you started with the dishes that everybody falls for; dishes that make everyone feel a sense of euphoria. So what is this euphoria? It is the feeling when anyone experiences a rare traditional Halal Pakistani food.
People worldwide find Pakistani dishes to have a winsome aroma and an unbelievably addictive taste.
There are a few choices for you in the traditional Pakistani cuisine. If you are willing to adopt the pakistani cuisine, your first meal should be a good Halwa puri breakfast.
So are you searching for "Halwa puri breakfast near me"? If that is the case, then don't search anymore. Why? Because at Silver Spoon, you can enjoy the best halwa puri experience. But why the Halwa Pori?
Here are three reasons why you should try out our Halwa puri Mississauga:
A Special Blend Of Crunch
Few foods in the world offer a blend of two or more different flavours; the Pakistani cuisine is well known for combining the most unbelievable features.
A finished and perfectly cooked Halwa puri recipe from Silver Spoon is a blend of two opposite things. It blends crunch and softness, spices and sweets, and much more. Every feature of this incredible dish makes it a worldwide favourite. At Silver Spoon, we understand what makes this dish a heavy-weight champion against every other breakfast idea. We employ the original recipes for creating this multi-textured dish, which is why it manages to get the same taste.
It Is A Special Dish
The halwa pori is a special dish for the pakistani and Indian people. This is because the halwa puri recipe hails from a royal background. Experts believe this genius creation was an idea from the Persian minds of the Mughal chefs' for their respective kings.
With time this highly rich-in-culture breakfast recipe got many changes. This is why finding the same recipe with the same magnificence is so challenging for people who love the dish. However, when you choose Silver Spoon, you can experience it with its classic aroma and blend.
At Silver Spoon, we understand what makes every dish a worldwide favourite. This is why you can experience the halwa pori at its traditional best at Silver Spoon.
Totally Vegetarian
Meat is not a necessity for human life. If you have to lay off the red stuff for a while, you should try the halwa pori. This dish is the best vegetarian idea for breakfast. It is an assemblage of the most exciting vegetarian ingredients, which are made more exciting with the exceptional taste of the best spices.
At Silver Spoon, you can experience the Halwa puri breakfast Mississauga. The Halwa puri Britannia is undeniably an excellent breakfast for those who have choosen the vegetarian lifestyle.
Conclusion
When it comes to enjoying a great pakistani style breakfast, nothing beats the Halwa Pori. This dish blends the most outstanding characteristics any meal can have.
However, if you are searching for "Halwa puri breakfast near me, "don't search anymore. At Silver Spoon, you can get to experience halwa pori at its best. We understand what makes this dish an incredible one, and that is why we make it better than others. So if you are still searching for "Halwa puri nashta near me" then don't do it anymore. At Silver Spoon, you enjoy the dish in the best way possible.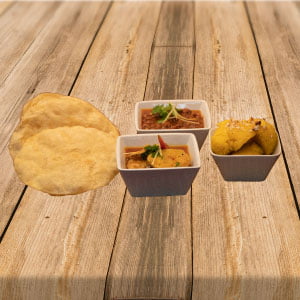 Weekend Breakfast (Saturday and Sunday) 10am to 2 pm
$6.99 Halwa Pori
3 Pori, Channa, Aloo Tarkari, Soji Ka Halwa