Just to bring a hearty smile on our customer's face, Silver Spoon introduced the most famous scrumptious breakfast item 'Halwa Puri' not only in Mississauga but as well as in Toronto, Brampton, and Milton. The dish was originated in Pakistan and is considered as an ideal one for breakfast/brunch, not only in Pakistan but as well as in India.
Puris are served with Cholay ka Saalan, Aaloo ki Tarkaari, and Sooji ka Halwa that simply gives a complete brunching experience. People normally prefer having such breakfast/brunch on weekends where they either dine in at some restaurant or take away and have it at their own place. They rarely try making all these items at home as it requires considerable amount of time and effort.
However, you don't have to worry about the hectic task of making it because you could simply our special Halwa Puri breakfast where 3 puris are served with Channa, Aloo Tarkari, and Sooji ka Halwa just for $6.99.
The response for our breakfast has been exemplary so far in all our branches be it in Mississauga, Toronto, or Brampton, not only from Indo-Pak people but as well as from Canadian born citizens which is a sheer token of appreciation for us.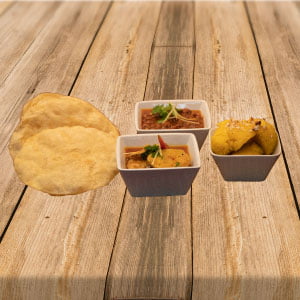 Weekend Breakfast (Saturday and Sunday) 10am to 2 pm
$6.99 Halwa Pori
3 Pori, Channa, Aloo Tarkari, Soji Ka Halwa